#ows
By Anonymous Indymedia User on 31 May 2012
Shamus Cooke
If one were to honestly assess Occupy's current strengths and weaknesses as a movement, confusion must be the inevitable result. This is because Occupy is not one movement, but an umbrella term that encompasses several different groups that have varied aims, organizational structures, and gaping theoretical differences.
Occupy may not be dead, but its power as a powerful social movement has surely been splintered into a dozen or so mini-movements. For example, a good, broad definition of a social movement is a large group of people who collectively try to achieve certain agreed on goals.
By Jason on 29 May 2012
I wanted to share this blog post with folks in Columbus just in case you all are not following this blog elsewhere. The author points out that even though the Occupy "Movement" is coming to an end, resistance to capitalism and the state is not ending and has the potential to grow.
By Anonymous Indymedia User on 29 Dec 2011


December 2011
Following Dec. 12 West Coast Port Blockade
Longshore Workers, Truckers: Shut the Ports, Coast to Coast!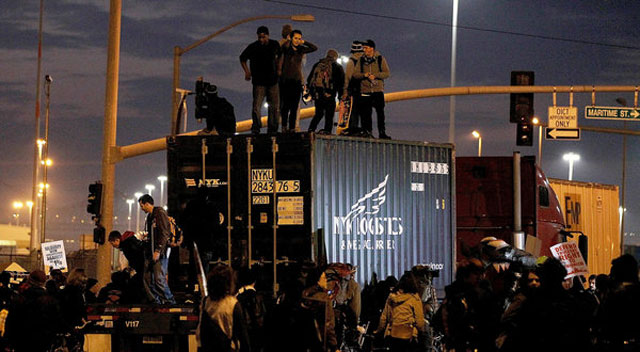 Occupy protesters blockade the port of Oakland, California, December 12. (Photo: Justin Sullivan/Getty Images)
Class War on the West Coast Docks
DECEMBER 28 – Following the nationally coordinated police evictions last month of Occupy Wall Street, Occupy Oakland and encampments across the country, on December 12 the Occupiers struck back. Ports up and down the West Coast were blockaded, from Seattle to San Diego and the port of Houston on the Gulf of Mexico. In Oakland, California, where 30,000-40,000 marchers shut down the port on the evening of November 2, this time hundreds blocked port entrances in the early morning and several thousand demonstrators occupied the dock area in the evening, shutting down shipping for the entire day. Key terminals were blockaded in Seattle and Portland. Solidarity rallies were held from New York to Honolulu and Tokyo, Japan. Despite a barrage of hostile propaganda in the media, opposition from union bureaucrats and heavy police repression in some places, overall the blockade was successful – this time.